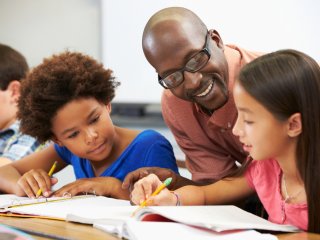 Course Type:
Instructor Led - 4 Weeks Long
Description
Objectives
Outline
Materials
System Requirements
Are you looking for ways to enhance your practice of teaching? Do you need to find new and exciting ways to engage your students? Our Student Engagement and Learning course explores the potential of formative assessment and techniques for improving student learning. We summarize key research on classroom formative assessment and show how these practices have a greater impact on educational achievement than most other reforms. Finally, practical techniques are discussed to help educators incorporate strategies into classroom practice. 
After completing this course, you should be able to:
Recall the impact of teacher quality and the importance of professional development when it comes to formative assessment
Recognize learning intentions and criteria and how to elicit evidence of learning
Identify techniques for cooperative learning and ways to move learning forward
Define applications for student self-assessment and self-testing
Student Engagement and Learning Module 1
Educational Achievement and Formative Assessment
Educational achievement is more important than ever – both for individuals and society. Module one addresses the importance and also the difficulties with raising student achievement levels. The main way to do that is to improve the quality of teachers in our classrooms. We'll discuss techniques behind professional development and formative assessments.
Importance of Educational Achievement
Impact of Teacher Quality
Importance of Professional Development
Origins of Formative Assessment
Assessment: The Bridge Between Teaching and Learning
Student Engagement and Learning Module 2
Learning Intentions and Criteria
Module two addresses how teachers can clarify and share learning intentions and success criteria to their students. Once that piece is in place, you can accurately assess where a student is in their learning. We can discover where their ideas come from and how to engage them through practical techniques, evaluative and interpretive listening, and discussions.
When to Use Learning Intentions
The Case for and Against Rubrics
Evidence of Learning
Discovering Where Students' Ideas Come From
Practical Techniques
Student Engagement and Learning Module 3
Providing Feedback and Activating Learners 
Providing effective feedback to students is harder than it sounds. This module will examine the effectiveness of different types of feedback and how learners react to feedback. We will also discuss cooperative and collaborative learning and practical techniques for incorporating that into your classroom.
Quality of Feedback
Feedback as a Recipe for Future Action
Effective Cooperative Learning
Instructional Resources
Ways to Move Learning Forward
Student Engagement and Learning Module 4
Activating Learners as Owners of Their Own Learning
The final module reviews the impact of getting students more involved in their learning. We'll discuss practical techniques for student self-assessments, self-testing, self-regulated learning, metacognition, and motivation.
Student Self-Assessment
Self-Testing
Self-Regulated Learning
Metacognition
Integration of Motivational and Metacognitive Perspectives
Ed4Career is committed to being both environmentally conscious and making it easier for you to study! We're making your education mobile! All of our textbooks are now provided as eTextbooks. You can access them on your laptop, tablet, or mobile device and can study anytime, anywhere.
The move away from physical books to eTextbooks means you get the latest, most up-to-date version available. This also makes your training more accessible, so you can study anywhere you have your phone or tablet. The best part is that all materials are included in your training cost so there are NO extra fees for books!
Internet Connection
Broadband or High-Speed - DSL, Cable, and Wireless Connections
*Dial-Up internet connections will result in a diminished online experience. Classroom pages may load slowly and viewing large audio and video files may not be possible.
Hardware Requirements
Processor - 2GHz Processor or Higher
Memory - 1 GB RAM Minimum Recommended
PC Software Requirements
Operating Systems - Windows 7 or higher
Microsoft Office 2013 or higher. Also, you could use a general Word Processing application to save and open Microsoft Office formats (.doc, .docx, .xls, .xlsx, .ppt, .pptx)
Internet Browsers - Google Chrome is highly recommended


Cookies MUST be enabled
Pop-ups MUST be allowed (Pop-up Blocker disabled)

The Kindle Reader App or VitalSource Bookshelf App are needed for many of our courses (No special equipment needed. This can be downloaded for FREE onto your computer.)
PowerPoint Viewer (if you do not have PowerPoint)
QuickTime, Windows Media Player &/or Real Player
MAC Software Requirements
Operating Systems - Mac OS x 10 or higher with Windows
Mac office programs or a Word Processing application to save and open Microsoft Office formats (.doc, .docx, .xls, .xlsx, .ppt, .pptx)
Internet Browsers- Google Chrome is highly recommended


Cookies MUST be enabled
Pop-ups MUST be allowed (Pop-up Blocker disabled)

The Kindle Reader App or VitalSource Bookshelf App are needed for many of our courses (No special equipment needed. This can be downloaded for FREE onto your computer.)
PowerPoint Viewer (if you do not have PowerPoint)
Adobe PDF Reader
Apple QuickTime Media Player