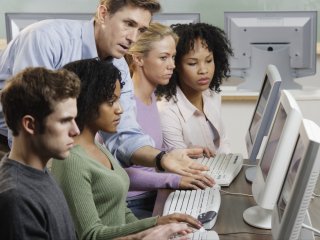 Course Type:
Instructor Led - 4 Weeks Long
Description
Objectives
Outline
Materials
System Requirements
Everyone who reads written language employs reading strategies. When teaching students to read, you are showing learners the kinds of reading decisions that proficient readers make rapidly and automatically to understand the text. When readers use these strategies often enough in a conscious and deliberate way, at some point, the practices become unconscious skills that they apply automatically whenever they read. This course focuses on practical "how-to" instructions to practice while helping students gain a greater understanding of what they are reading. Our Teaching the Struggling Reader course provides strategies for teachers and parents to use to help give their young readers the confidence they need to gain a love of reading!
After completing this course, you should be able to:
Recognize the struggling reader and determine what works
Identify approaches to help readers improve their comprehension
Recall strategies that help readers improve their logic skills
Define multiple learning strategies for the struggling reader 
Teaching the Struggling Reader Module 1
Balancing Language to Support the Meaning of Print
Do you have students who are afraid to read?  Are they understanding less than they are capable of understanding?  Module one will look at how to determine if your student is a developing reader and what works to help those struggling readers become alert and ready to learn.  Most of the time it is as simple as teachers adjust how they instruct students to read and with which strategies.  Module one will also examine the Cloze Reading Strategy which focuses on helping students deal with unfamiliar words.
Replacing Fear with Joy
Tools to Tackle Text
Cloze Reading Strategy
When and How to Teach Cloze Reading
Oral and Written Work
Teaching the Struggling Reader Module 2   
Nicknaming, Scattered Clues and Paraphrasing
The Nickname Reading Strategy is relatively new.  Many readers struggle with figuring out how to pronounce names of people and places they encounter in stories.  This strategy will give students a way to examine words and create clues to help them remember the word when they come to it in their text.  Module two will also look at one of the most powerful reading strategies-The Scattered Clues. Another reading strategy we will explore is the Paraphrasing Reading Strategy and how it is different than the other strategies in this text.
How to Teach the Nickname Reading Strategy
Telling Doesn't Work
Why and How to Teach the Scattered Clues Reading Strategy
Constructing Scattered Clues Reading Strategies
How the Paraphrasing Reading Strategy is Different
Teaching the Struggling Reader Module 3
Nonsense and Pronoun Referent Reading Strategies
Do you have a student who interacts with informational texts that contain many unfamiliar words and concepts?  The Nonsense Reading Strategy will be great for that student.  Module three will guide you on how to teach students to use this strategy while reading.  Another strategy that module three will look at is the Pronoun Referent Reading Strategy, which is great to use when students are having a difficult time inferring what pronouns refer to.
When to Teach the Nonsense Reading Strategy
Focus on Adverbs and Connective Language
Why and How to Teach the Pronoun Referent Reading Strategy
Oral Language Practice
Pronoun Referent Strategies in Guided Reading Books
Teaching the Struggling Reader Module 4
Unraveling and Kerneling Reading Strategies
When struggling readers encounter long sentences, it is hard for them to comprehend all of the ideas embedded.  Module four will look at teaching students to both unravel and create complex sentences will them understand the ideas in complex sentences, using the Unraveling Strategy.  Module four will examine the multiple types of Kerneling Reading Strategies and the type of readers to use this method with.
When to Teach Unraveling
How to Teach the Unraveling Reading Strategy
How to Teach the Kerneling Reading Strategy
Getting Started with Kerneling
Types of Kerneling Reading Strategies
Ed4Career is committed to being both environmentally conscious and making it easier for you to study! We're making your education mobile! All of our textbooks are now provided as eTextbooks. You can access them on your laptop, tablet, or mobile device and can study anytime, anywhere.
The move away from physical books to eTextbooks means you get the latest, most up-to-date version available. This also makes your training more accessible, so you can study anywhere you have your phone or tablet. The best part is that all materials are included in your training cost so there are NO extra fees for books!
Internet Connection
Broadband or High-Speed - DSL, Cable, and Wireless Connections
*Dial-Up internet connections will result in a diminished online experience. Classroom pages may load slowly and viewing large audio and video files may not be possible.
Hardware Requirements
Processor - 2GHz Processor or Higher
Memory - 1 GB RAM Minimum Recommended
PC Software Requirements
Operating Systems - Windows 7 or higher
Microsoft Office 2013 or higher. Also, you could use a general Word Processing application to save and open Microsoft Office formats (.doc, .docx, .xls, .xlsx, .ppt, .pptx)
Internet Browsers - Google Chrome is highly recommended


Cookies MUST be enabled
Pop-ups MUST be allowed (Pop-up Blocker disabled)

The Kindle Reader App or VitalSource Bookshelf App are needed for many of our courses (No special equipment needed. This can be downloaded for FREE onto your computer.)
PowerPoint Viewer (if you do not have PowerPoint)
QuickTime, Windows Media Player &/or Real Player
MAC Software Requirements
Operating Systems - Mac OS x 10 or higher with Windows
Mac office programs or a Word Processing application to save and open Microsoft Office formats (.doc, .docx, .xls, .xlsx, .ppt, .pptx)
Internet Browsers- Google Chrome is highly recommended


Cookies MUST be enabled
Pop-ups MUST be allowed (Pop-up Blocker disabled)

The Kindle Reader App or VitalSource Bookshelf App are needed for many of our courses (No special equipment needed. This can be downloaded for FREE onto your computer.)
PowerPoint Viewer (if you do not have PowerPoint)
Adobe PDF Reader
Apple QuickTime Media Player