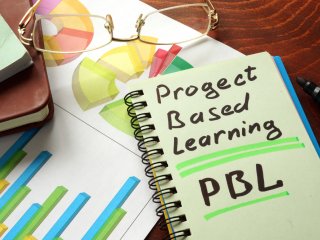 Course Type:
Instructor Led - 4 Weeks Long
Description
Objectives
Outline
Materials
System Requirements
One challenge for teachers trying to incorporate Project Based Learning (PBL) strategies into their classroom is having the knowledge to implement effectively. Our Project Based Learning Techniques course will help guide you through the process of setting up beneficial learning environments. We cover theories behind PBL, as well as planning activities, assessment, feedback, and reflection strategies. By taking our course, you'll discover the fascinating world of PBL by using hands-on and engaging learning techniques. 
After completing this course, you should be able to:
Identify how to establish inquiry, creativity, and collaboration skills
Recall how to create projects and how to engage students
Recognize techniques used for assessments and feedback
Describe ways to effectively teach content and how to reflect on what has been taught  
Project Based Learning Techniques Module 1
Risk Taking and Collaboration Skills
Children's brains are wired for creativity. In order to promote inquiry and to think outside the box, you must be willing to take some risks. The first module of our course discusses ways to establish a culture of creativity and ways to promote collaboration skills with both teachers and peers.
Simple but Not Too Simple
Schools Kill Creativity
Establish a Culture of Inquiry and Creativity
Teaching Collaboration Skills
Friction is Key
Project Based Learning Techniques Module 2
Creating Your Project Based Learning Vision
Knowing what content to focus on during project based learning can be a challenge. This module discusses the basis of High Impact Content and how it lends itself to overall student success. We'll also describe how to create a vision for your project that is realistic, achievable, and engaging for students. 
Project Based Learning Worthy Content
Create a Vision for Your Project
Projects vs. Project Based Learning
Wrap the Learning in Inquiry
Students Need Engaging Context for Their Work Project Based Learning Techniques Module 3
Assessment and Feedback
Once you've implemented PBL content, you'll need a way to track student progress and assess overall learning. This module discusses how to track if individual students have developed skills and demonstrate understanding of content. We'll also describe ways to give appropriate student feedback that will continue to facilitate learning.
Shift the Ownership of Assessment
Facilitate a Progress Assessment Tool
Student Learning
Conferencing and Feedback
Project Based Learning Techniques Module 4
Guarantee Understanding and Reflection
Our last module helps guide you in creating an environment that is centered on the learner. We'll discuss the need for summative assessments, proper reflection, and publishing techniques.
Integrate Direct Instruction as Necessary
Guarantee Understanding
Summative Assessments
Finish Off Your Project in Style
Reflection and Publishing
Ed4Career is committed to being both environmentally conscious and making it easier for you to study! We're making your education mobile! All of our textbooks are now provided as eTextbooks. You can access them on your laptop, tablet, or mobile device and can study anytime, anywhere.
The move away from physical books to eTextbooks means you get the latest, most up-to-date version available. This also makes your training more accessible, so you can study anywhere you have your phone or tablet. The best part is that all materials are included in your training cost so there are NO extra fees for books!
Internet Connection
Broadband or High-Speed - DSL, Cable, and Wireless Connections
*Dial-Up internet connections will result in a diminished online experience. Classroom pages may load slowly and viewing large audio and video files may not be possible.
Hardware Requirements
Processor - 2GHz Processor or Higher
Memory - 1 GB RAM Minimum Recommended
PC Software Requirements
Operating Systems - Windows 7 or higher
Microsoft Office 2013 or higher. Also, you could use a general Word Processing application to save and open Microsoft Office formats (.doc, .docx, .xls, .xlsx, .ppt, .pptx)
Internet Browsers - Google Chrome is highly recommended


Cookies MUST be enabled
Pop-ups MUST be allowed (Pop-up Blocker disabled)

The Kindle Reader App or VitalSource Bookshelf App are needed for many of our courses (No special equipment needed. This can be downloaded for FREE onto your computer.)
PowerPoint Viewer (if you do not have PowerPoint)
QuickTime, Windows Media Player &/or Real Player
MAC Software Requirements
Operating Systems - Mac OS x 10 or higher with Windows
Mac office programs or a Word Processing application to save and open Microsoft Office formats (.doc, .docx, .xls, .xlsx, .ppt, .pptx)
Internet Browsers- Google Chrome is highly recommended


Cookies MUST be enabled
Pop-ups MUST be allowed (Pop-up Blocker disabled)

The Kindle Reader App or VitalSource Bookshelf App are needed for many of our courses (No special equipment needed. This can be downloaded for FREE onto your computer.)
PowerPoint Viewer (if you do not have PowerPoint)
Adobe PDF Reader
Apple QuickTime Media Player