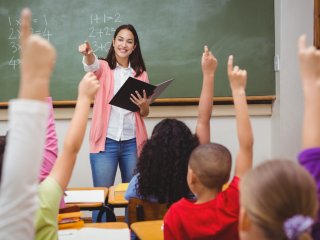 Course Type:
Instructor Led - 4 Weeks Long
Description
Objectives
Outline
Materials
System Requirements
This course will focus on the belief that all classrooms are heterogeneous on many levels, as are the students in them. This course will assist teachers seeking to create learning environments that address the variability that is typical of academically diverse classrooms. The course aims to help teachers determine what differentiated instruction is, why it is essential for all learners, how to begin to plan for it, and how to become comfortable enough with student differences to make school comfortable for each student.
After completing this course, you should be able to:
Recall what differentiated instruction is
Recognize the rationale for differentiating instruction
Identify strategies for managing a differentiated classroom
List roles of a teacher in a differentiated classroom
Instruction for Academically Diverse Classrooms Module 1
Understanding Differentiated Classrooms
Kids of the same age aren't alike when it comes to learning. In a classroom with little or no differentiated instruction, only student similarities seem to take center stage. In a differentiated classroom, commonalities are acknowledged and built upon, and student differences also become important elements in teaching and learning.  
What Differentiated Instruction Is—and Isn't
The Rationale for Differentiating Instruction in Academically Diverse Classrooms
The Needs of Students in a Differentiated Classroom Topic
Addressing the Needs of Advanced Learners
The Needs of Struggling Learners
Instruction for Academically Diverse Classrooms Module 2
The Teacher Role and the Learning Environment
Differentiated instruction in academically diverse classrooms is beneficial not only to students but teachers as well.  For many teachers, though, before they can offer differentiated instruction, they must first make a paradigm shift. When teachers differentiate instruction, they begin seeing themselves as collaborators with students and organizers of learning opportunities.
The Teacher's Role in a Differentiated Classroom
Characteristics of an Effective Learning Community
Inside Some Differentiated Classrooms
Variety of Instructional Strategies
Instruction for Academically Diverse Classrooms Module 3 
Lesson Planning
In a differentiated classroom, some of the traditional ways of doing things will change. Your students and their guardians may need your help to understand and feel comfortable with the new classroom. We will also look at the three dimensions of student variance guide planning for differentiation: readiness, interest, and learning profile. We will look at the basics of differentiating instruction in response to those three student traits.
Preparing Students and Parents for a Differentiated Classroom
Introducing Students to Differentiated Instruction
Helping Parents Learn About Differentiated Instruction
Planning Lessons Differentiated by Readiness
Instruction for Academically Diverse Classrooms Module 4
Differentiated Content, Processes, and Products
This module will focus on how students process ideas thinking about how to differentiate instruction is more manageable when you examine one element at a time. We will look at how content can be differentiated in response to a student's readiness level, interests, or learning profile. It can also be differentiated in response to any combination of readiness, interest, and learning profile.
Strategies for Differentiating Content
Differentiating Products
Creating High-Quality Product Assignments
Grading in a Differentiated Classroom
Ed4Career is committed to being both environmentally conscious and making it easier for you to study! We're making your education mobile! All of our textbooks are now provided as eTextbooks. You can access them on your laptop, tablet, or mobile device and can study anytime, anywhere.
The move away from physical books to eTextbooks means you get the latest, most up-to-date version available. This also makes your training more accessible, so you can study anywhere you have your phone or tablet. The best part is that all materials are included in your training cost so there are NO extra fees for books!
Internet Connection
Broadband or High-Speed - DSL, Cable, and Wireless Connections
*Dial-Up internet connections will result in a diminished online experience. Classroom pages may load slowly and viewing large audio and video files may not be possible.
Hardware Requirements
Processor - 2GHz Processor or Higher
Memory - 1 GB RAM Minimum Recommended
PC Software Requirements
Operating Systems - Windows 7 or higher
Microsoft Office 2013 or higher. Also, you could use a general Word Processing application to save and open Microsoft Office formats (.doc, .docx, .xls, .xlsx, .ppt, .pptx)
Internet Browsers - Google Chrome is highly recommended


Cookies MUST be enabled
Pop-ups MUST be allowed (Pop-up Blocker disabled)

The Kindle Reader App or VitalSource Bookshelf App are needed for many of our courses (No special equipment needed. This can be downloaded for FREE onto your computer.)
PowerPoint Viewer (if you do not have PowerPoint)
QuickTime, Windows Media Player &/or Real Player
MAC Software Requirements
Operating Systems - Mac OS x 10 or higher with Windows
Mac office programs or a Word Processing application to save and open Microsoft Office formats (.doc, .docx, .xls, .xlsx, .ppt, .pptx)
Internet Browsers- Google Chrome is highly recommended


Cookies MUST be enabled
Pop-ups MUST be allowed (Pop-up Blocker disabled)

The Kindle Reader App or VitalSource Bookshelf App are needed for many of our courses (No special equipment needed. This can be downloaded for FREE onto your computer.)
PowerPoint Viewer (if you do not have PowerPoint)
Adobe PDF Reader
Apple QuickTime Media Player