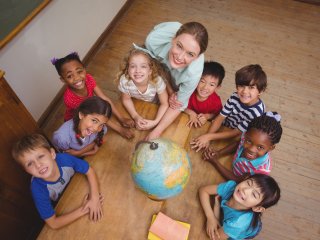 Course Type:
Instructor Led - 4 Weeks Long
Description
Objectives
Outline
Materials
System Requirements
No single strategy can guarantee that a child will learn. Instructional strategies work in collaboration with other educational methods to influence student learning. Our Instructional Strategies for Academic Success course explores over 330 specific instructional strategies. We discuss how to use assessments, how to conduct lessons, and implement rules and procedures all while building positive relationships with students. 
After completing this course, you should be able to:
Describe how to provide clear learning goals and how to use assessments
Identify educational strategies, including knowledge application lessons
Recall how to use engagement strategies and implement rules and procedures
Recognize how to build relationships and communicate expectations
Instructional Strategies for Academic Success Module 1
Learning Goals and Assessments 
In this first module, we discuss how to provide and communicate clear learning goals. In order to provide effective feedback, learning goals need to first be implemented and understandable. We also examine how assessments can provide students with methods to advance their learning. 
Scales and Rubrics
Tracking Student Progress
Informal Assessments
Formal Assessments
Processing Content
Instructional Strategies for Academic Success Module 2
Lesson Planning Strategies 
In module two, we describe a number of different strategies for student learning. Aspects of procedural and declarative knowledge are discussed, as well as ways to implement direct instruction, structured practice, and knowledge application lessons.
Structured Practice Sessions
Knowledge Application Lessons
Cognitively Complex Tasks
Strategies that Appear in all Types of Lessons
Highlighting Critical Information
Instructional Strategies for Academic Success Module 3 
Engagement Strategies, Rules, and Procedures
Engagement is divided into four components: paying attention, being energized, being intrigued, and being inspired. We examine ways to use engaging strategies to assist with learning, which can help motivate and inspire students. We also discuss proper ways to establish rules and procedures within your classroom.
Response Rates
Academic Games
Intensity and Enthusiasm
Motivation and Inspiring Students
Establishing Rules and Procedures
Instructional Strategies for Academic Success Module 4
High Expectations
Building relationships with your students is one of the most beneficial things you can do as their teacher. The greater the expectations, the more you feel comfortable with providing a challenging and interact environment. Our final module discusses ways to build relationships, communicate high expectations, and promote teacher growth and development. 
Building Relationships
Displaying Objectivity and Control
Communicating High Expectations
Making System Changes
Teacher Development
Ed4Career is committed to being both environmentally conscious and making it easier for you to study! We're making your education mobile! All of our textbooks are now provided as eTextbooks. You can access them on your laptop, tablet, or mobile device and can study anytime, anywhere.
The move away from physical books to eTextbooks means you get the latest, most up-to-date version available. This also makes your training more accessible, so you can study anywhere you have your phone or tablet. The best part is that all materials are included in your training cost so there are NO extra fees for books!
Internet Connection
Broadband or High-Speed - DSL, Cable, and Wireless Connections
*Dial-Up internet connections will result in a diminished online experience. Classroom pages may load slowly and viewing large audio and video files may not be possible.
Hardware Requirements
Processor - 2GHz Processor or Higher
Memory - 1 GB RAM Minimum Recommended
PC Software Requirements
Operating Systems - Windows 7 or higher
Microsoft Office 2013 or higher. Also, you could use a general Word Processing application to save and open Microsoft Office formats (.doc, .docx, .xls, .xlsx, .ppt, .pptx)
Internet Browsers - Google Chrome is highly recommended


Cookies MUST be enabled
Pop-ups MUST be allowed (Pop-up Blocker disabled)

The Kindle Reader App or VitalSource Bookshelf App are needed for many of our courses (No special equipment needed. This can be downloaded for FREE onto your computer.)
PowerPoint Viewer (if you do not have PowerPoint)
QuickTime, Windows Media Player &/or Real Player
MAC Software Requirements
Operating Systems - Mac OS x 10 or higher with Windows
Mac office programs or a Word Processing application to save and open Microsoft Office formats (.doc, .docx, .xls, .xlsx, .ppt, .pptx)
Internet Browsers- Google Chrome is highly recommended


Cookies MUST be enabled
Pop-ups MUST be allowed (Pop-up Blocker disabled)

The Kindle Reader App or VitalSource Bookshelf App are needed for many of our courses (No special equipment needed. This can be downloaded for FREE onto your computer.)
PowerPoint Viewer (if you do not have PowerPoint)
Adobe PDF Reader
Apple QuickTime Media Player