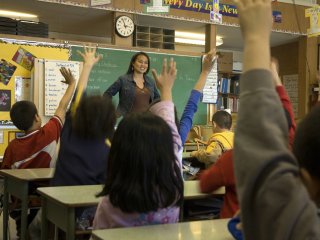 Course Type:
Instructor Led - 4 Weeks Long
Description
Objectives
Outline
Materials
System Requirements
The elementary classroom today, is more diverse, inclusive, and plugged in to technology than ever before and although schools today are changing so rapidly, the power of differentiation remains the same and the need is ever growing! Teachers today are under tremendous pressure to help ensure students meet a set of rigorous, standardized learning topics.  Differentiation in the Elementary Classroom will guide teachers with the division of time, resources, and efforts to effectively instruct their students.
After completing this course, you should be able to:
Define what constitutes a differentiated classroom
Identify the principles that can be applied to create an engaging classroom
List the various proven activities to use in the differentiated classroom
Recognize classroom management techniques and strategies for differentiating lessons 
Differentiation in the Elementary Classroom Module 1 Chapters 1 - 3
Why A Differentiated Classroom?
As we begin our journey through the differentiated classroom, it is important to first recognize what constitutes a differentiated class. Included in our first week, we will examine the various portraits of differentiated classrooms, how curriculum is organized to support learning within these classes, and how teachers and students can work together to achieve success within this environment. 
Hallmarks of Differentiated Classrooms
Portraits from Schools
The Underpinnings of Differentiation
The Curriculum is Organized to Support Learning
Rethinking How We Do School
Differentiation in the Elementary Classroom Module 2 Chapters 4 - 6
What Makes A Differentiated Classroom?
Module two will explore the roles of the teacher and look at how teachers are the foundation of the differentiated classroom.  Found within the differentiated classroom are principles that all teachers should apply to create an engaging classroom.  This week, we will look at these principles and examine how we can use them to create differentiated lessons.
Teaching as a Learning Triangle
Making Content Compelling for Learners
Good Curriculum as a Basis for Differentiation
Differentiating Fact- or Skills-Focused Instruction
Differentiating Concept- or Meaning-Based Instruction
Differentiation in the Elementary Classroom Module 3 Chapters 7 - 8
Strategies in a Differentiated Classroom
The third week takes us through the various proven activities to use in the differentiated classroom. There are many strategies that invite teachers to examine the needs of small groups and individuals, as opposed to teaching as though all learners share the same readiness level, interests, and modes of learning.  Module three will explore in detail how to use these approaches in your classroom. 
Strategies that Support Differentiation
Agendas
Complex Instruction
Centers and Entry Points
Tiered Activities
Differentiation in the Elementary Classroom Module 4 Chapters 9 - 11
Making the Classroom Work
Classroom management is critical in providing a successful differentiated elementary classroom.  In module four, we will look at some guidelines to consider for promising ways to plan, implement, and lead the differentiated classroom.  Also included this week is how to lead a school in slowing bringing change in classrooms from a traditional approach to a differentiated style of teaching and learning. 
Images of School
Start Small and Grow Slowly
Talking with Students
Developing a Support System
Apply Pressure and Offer Support
Ed4Career is committed to being both environmentally conscious and making it easier for you to study! We're making your education mobile! All of our textbooks are now provided as eTextbooks. You can access them on your laptop, tablet, or mobile device and can study anytime, anywhere.
The move away from physical books to eTextbooks means you get the latest, most up-to-date version available. This also makes your training more accessible, so you can study anywhere you have your phone or tablet. The best part is that all materials are included in your training cost so there are NO extra fees for books!
Internet Connection
Broadband or High-Speed - DSL, Cable, and Wireless Connections
*Dial-Up internet connections will result in a diminished online experience. Classroom pages may load slowly and viewing large audio and video files may not be possible.
Hardware Requirements
Processor - 2GHz Processor or Higher
Memory - 1 GB RAM Minimum Recommended
PC Software Requirements
Operating Systems - Windows 7 or higher
Microsoft Office 2013 or higher. Also, you could use a general Word Processing application to save and open Microsoft Office formats (.doc, .docx, .xls, .xlsx, .ppt, .pptx)
Internet Browsers - Google Chrome is highly recommended


Cookies MUST be enabled
Pop-ups MUST be allowed (Pop-up Blocker disabled)

The Kindle Reader App or VitalSource Bookshelf App are needed for many of our courses (No special equipment needed. This can be downloaded for FREE onto your computer.)
PowerPoint Viewer (if you do not have PowerPoint)
QuickTime, Windows Media Player &/or Real Player
MAC Software Requirements
Operating Systems - Mac OS x 10 or higher with Windows
Mac office programs or a Word Processing application to save and open Microsoft Office formats (.doc, .docx, .xls, .xlsx, .ppt, .pptx)
Internet Browsers- Google Chrome is highly recommended


Cookies MUST be enabled
Pop-ups MUST be allowed (Pop-up Blocker disabled)

The Kindle Reader App or VitalSource Bookshelf App are needed for many of our courses (No special equipment needed. This can be downloaded for FREE onto your computer.)
PowerPoint Viewer (if you do not have PowerPoint)
Adobe PDF Reader
Apple QuickTime Media Player