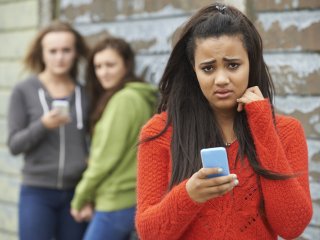 Course Type:
Instructor Led - 4 Weeks Long
Description
Objectives
Outline
Materials
System Requirements
Over the last three decades, school shootings have become increasing more frequent. Why is this happening? Our Bullying in Schools course discusses the connections between school shootings, bullying, and gender and social demands placed on children in our schools. Bullying has reached disturbing levels across the country and no one is immune. We'll discuss aspects of masculinity, social status, violence against girls, cyber-bullying, gay bashing, and adult bullying. This course introduces you to the effects bullying has on our communities and techniques for creating a caring learning environment for our children. 
After completing this course, you should be able to:
Recall the effects social status and masculinity have on bullying
Recognize the signs of violence against girls and the gay community
Identify aspects of cyber-bulling, adult bullying, and how bullying influences the economy
Describe how to create kinder learning environments and cyberspaces
Bullying in Schools Module 1
Social Status
Social status holds a lot of weight in schools. A lot of social pressure is hidden from parents, but children are bullied and tormented based on societal influences. In this module, we discuss the role that social status plays in school and factors that influence it. We also describe theories of masculinity and the role that it plays in violence and shootings.
Social Status Wars
Power of Wealth
Theories of Masculinity
White Supremacy
Bullying in Schools Module 2
Violence Against Girls and Bashing
Sexual harassment against girls and dating violence is very prevalent in schools. Jealousy and relationship troubles account for a lot of this violence and even some shootings. Module two discusses these aspects of violence, as well as violence against gay peers. Gay bashing includes abuse against people who identify themselves as gay.  This module describes how typical gender roles play a role in violent behavior.
Violence against Girls and School Shootings
Flamboyant Heterosexuality
"Coming Out" Still Unsafe
Girl Bashing
Bullying in Schools Module 3 
Cyber-Bulling and Adult Bullies
These days, bullying extends past face to face encounters and into cyberspace. There are multiple types of cyber-bullying that we examine in this module, as well as efforts that can be used to stop cyber-bullying. We also discuss bullying behaviors that adults engage in, as well as behaviors that involve ignoring and looking the other way when violence occurs.
Types of Cyber-Bulling
Efforts to Curb Cyber-Bullying
Internet Addiction and Social Isolation
Parent and Coach Bullies
Bullying in Schools Module 4
Bully Economy and Cyberspaces
Bullying affects the economy, future employment, workforces, and adult success. Competitive and punishment-oriented schools mirror the combative workforce. As children develop, bullying and emotional situations can undermine academic performance. In this final module of the course, we discuss the role bullying plays in the economy. Finally, we describe ways to create safer, more accepting schools.
What is a Compassionate Economy?
America vs. Europe
U.S. Responses to School Shootings
Creating Kinder Schools
 
Ed4Career is committed to being both environmentally conscious and making it easier for you to study! We're making your education mobile! All of our textbooks are now provided as eTextbooks. You can access them on your laptop, tablet, or mobile device and can study anytime, anywhere.
The move away from physical books to eTextbooks means you get the latest, most up-to-date version available. This also makes your training more accessible, so you can study anywhere you have your phone or tablet. The best part is that all materials are included in your training cost so there are NO extra fees for books!
Internet Connection
Broadband or High-Speed - DSL, Cable, and Wireless Connections
*Dial-Up internet connections will result in a diminished online experience. Classroom pages may load slowly and viewing large audio and video files may not be possible.
Hardware Requirements
Processor - 2GHz Processor or Higher
Memory - 1 GB RAM Minimum Recommended
PC Software Requirements
Operating Systems - Windows 7 or higher
Microsoft Office 2013 or higher. Also, you could use a general Word Processing application to save and open Microsoft Office formats (.doc, .docx, .xls, .xlsx, .ppt, .pptx)
Internet Browsers - Google Chrome is highly recommended


Cookies MUST be enabled
Pop-ups MUST be allowed (Pop-up Blocker disabled)

The Kindle Reader App or VitalSource Bookshelf App are needed for many of our courses (No special equipment needed. This can be downloaded for FREE onto your computer.)
PowerPoint Viewer (if you do not have PowerPoint)
QuickTime, Windows Media Player &/or Real Player
MAC Software Requirements
Operating Systems - Mac OS x 10 or higher with Windows
Mac office programs or a Word Processing application to save and open Microsoft Office formats (.doc, .docx, .xls, .xlsx, .ppt, .pptx)
Internet Browsers- Google Chrome is highly recommended


Cookies MUST be enabled
Pop-ups MUST be allowed (Pop-up Blocker disabled)

The Kindle Reader App or VitalSource Bookshelf App are needed for many of our courses (No special equipment needed. This can be downloaded for FREE onto your computer.)
PowerPoint Viewer (if you do not have PowerPoint)
Adobe PDF Reader
Apple QuickTime Media Player