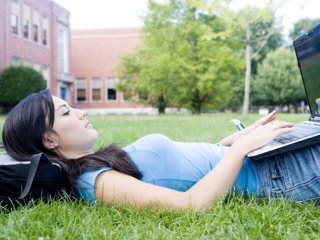 Course Type:
Instructor Led - 4 Weeks Long
Description
Objectives
Outline
Materials
System Requirements
Why do they act that way? That is the question all parents of teenagers have asked themselves at one time or another. Understanding those not children, but not yet adult humans that take over the house is no easy feat. They have bad manners, contempt for authority, disrespect for elders, and spend all their time sleeping and playing video games. This course addresses what modern teens face today and delves into physiological and psychological issues that turn our loving kids into surely teenagers.
After completing this course, you should be able to:
Identify components of adolescents brains
Recall proper communication skills and how the media influences adolescents
Recognize the physical changes in an adolescent's body
Recall some guidelines for helping teens through emotional changes
A Parent's Guide to Adolescents Module 1
Adolescent Brains & Impulsiveness
In Module one we will explore the gap that forms between adolescents and their parents. We will delve into the adolescent brain and identify how teens change physically, mentally, and emotionally during the adolescent years.
Making Sense of Adolescence

What Adolescents Face Today
The Gap Between Parents and Their Kids
Appreciating Adolescents
Physical Changes in the Teen Brain
A Parent's Guide to Adolescents Module 2
Communication & Sexual Identity
In Module two we will focus on communicating with the adolescent. Tips and tools for learning good communication skills will be shared. Also, we will identify the trials teens face while exploring his or her sexual identity during adolescents and list some effective tools for addressing sexual identity with teens.
Parent-Adolescent Miscommunication

Good Communication Skills
Male and Female Brains
Sexual Stereotyping and Identity
Love, Sex, and the Adolescent Brain
A Parent's Guide to Adolescents Module 3
Media, Sleep, & Mental Illness
Module three describes the physical changes in an adolescent's body and addresses why teens sleep patterns tend to change during these years. Another important topic discussed in this module is mental illness in teens. How to know if your child is testing his or her boundaries or if there may be an underlying factor that may require intervention.
Adolescents and Media

Media Use
Media in Teens' Lives
Sleep and the Teen Brain
Adolescent Mental Illness
A Parent's Guide to Adolescents Module 4
Psychological & Social Dimensions of Adolescence
Module four will define how teens react to the physical changes that take place during adolescents and give parents/adults some guidelines on the best way to help teens through these changes. Emotional changes are also discussed and finally, peer relationships and the important influence friends have on the adolescent.
Four Major Changes

Reactions to Physical Changes
Reactions to Emotional Change
The Shift of Influence from Parents to Peers
The Search for Identity
Ed4Career is committed to being both environmentally conscious and making it easier for you to study! We're making your education mobile! All of our textbooks are now provided as eTextbooks. You can access them on your laptop, tablet, or mobile device and can study anytime, anywhere.
The move away from physical books to eTextbooks means you get the latest, most up-to-date version available. This also makes your training more accessible, so you can study anywhere you have your phone or tablet. The best part is that all materials are included in your training cost so there are NO extra fees for books!
Internet Connection
Broadband or High-Speed - DSL, Cable, and Wireless Connections
*Dial-Up internet connections will result in a diminished online experience. Classroom pages may load slowly and viewing large audio and video files may not be possible.
Hardware Requirements
Processor - 2GHz Processor or Higher
Memory - 1 GB RAM Minimum Recommended
PC Software Requirements
Operating Systems - Windows 7 or higher
Microsoft Office 2013 or higher. Also, you could use a general Word Processing application to save and open Microsoft Office formats (.doc, .docx, .xls, .xlsx, .ppt, .pptx)
Internet Browsers - Google Chrome is highly recommended


Cookies MUST be enabled
Pop-ups MUST be allowed (Pop-up Blocker disabled)

The Kindle Reader App or VitalSource Bookshelf App are needed for many of our courses (No special equipment needed. This can be downloaded for FREE onto your computer.)
PowerPoint Viewer (if you do not have PowerPoint)
QuickTime, Windows Media Player &/or Real Player
MAC Software Requirements
Operating Systems - Mac OS x 10 or higher with Windows
Mac office programs or a Word Processing application to save and open Microsoft Office formats (.doc, .docx, .xls, .xlsx, .ppt, .pptx)
Internet Browsers- Google Chrome is highly recommended


Cookies MUST be enabled
Pop-ups MUST be allowed (Pop-up Blocker disabled)

The Kindle Reader App or VitalSource Bookshelf App are needed for many of our courses (No special equipment needed. This can be downloaded for FREE onto your computer.)
PowerPoint Viewer (if you do not have PowerPoint)
Adobe PDF Reader
Apple QuickTime Media Player