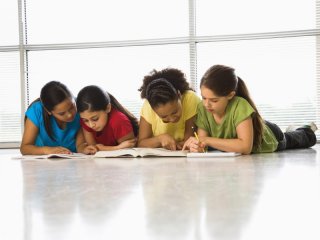 Course Type:
Instructor Led - 4 Weeks Long
Description
Objectives
Outline
Materials
System Requirements
All teachers want children to fulfill their creative potential, but teachers and other adults often unintentionally stifle creativity.  Fueling Creativity in the Classroom is designed to help teachers know and understand the skills that children need to thrive in the future: knowing how to learn, passion and curiosity, people skills, and creativity.  Teachers need to ensure that every single early childhood setting is a place where ideas can grow and our course will help new and seasoned teachers with their approach in fostering creativity for the students in their classrooms.
After completing this course, you should be able to:
Recall ways to support creative thinking
Identify strategies to use to inspire creativity in children
List the various proven activities and games to use in the creative classroom
Identify ways to respect children's imagination and creativity
Fueling Creativity in the Classroom Module 1 Part 1
Supporting Creative Thinking
As we begin our study of fueling creativity in children, we need to first consider how we can boost creative confidence. Active listening emphasizes the importance in understanding others' feelings, but it is also essential for affirming children's creative thinking.  To be truly supportive of children's creative thinking, we need to notice when they are thinking creatively.  Module one share ideas of how to help children express their creative ideas in their own unique styles. 
Listen Out Loud
Lead By Following
Help by Not Helping
Approach Slowly and Sideways
Make Lots of Mistakes
Fueling Creativity in the Classroom Module 2 Part 2
Valuing Creative Thinking
Module two will examine the concept of using praise as a helpful teaching tool. In too many instances, adults may squash children's creativity without even realizing what they are doing.  This week, we will look at nonverbal and verbal language and the roles they play in fueling creativity.  Additionally, we will learn more about how to share a positive attitude and how to help children persevere in thinking creatively in the face of difficulties, pressures, and obstacles. 
Value without Evaluating
Look Beyond the Behavior
Take Pride in Your Own Creativity
Value the Group's Creative Thinking        
Fortify Their Future
Fueling Creativity in the Classroom Module 3 Part 3 Section 1
Inspiring Creative Thinking: Curiosity
The third week takes us through the various proven activities to use in the creative classroom in regards to curiosity and problem solving. As teachers, we need to help children appreciate the inventions that make our lives easier, safer, and more fun-while helping fuel their creative minds design their own inventions!  Also in this module, we will consider how to use the world around us to inspire creative thinking. 
Share the Joy of Knots
Pay Attention to Inventions
Help Children See with Their Eyes Closed
Wave Your Magic Want
Explore the World of Sound
Fueling Creativity in the Classroom Module 4 Part 3 Section 2 & 3
Inspiring Creative Thinking: Arts, Language, and Early Literacy
When playing games, it is important to accept all children's responses.  Building on children's stories is key to encouraging their language and early literacy skills.  Module four will look at ways to respect children's imagination and creativity through expressive conversations.  Also included this week is challenging activities to develop self-expression and find life in everything.
Talk Nonsense
Do the Opposite
Try the Easiest, Quickest, Most Fun and Most Effective
Open a Creative Toolbox
See Life in Everything
Ed4Career is committed to being both environmentally conscious and making it easier for you to study! We're making your education mobile! All of our textbooks are now provided as eTextbooks. You can access them on your laptop, tablet, or mobile device and can study anytime, anywhere.
The move away from physical books to eTextbooks means you get the latest, most up-to-date version available. This also makes your training more accessible, so you can study anywhere you have your phone or tablet. The best part is that all materials are included in your training cost so there are NO extra fees for books!
Internet Connection
Broadband or High-Speed - DSL, Cable, and Wireless Connections
*Dial-Up internet connections will result in a diminished online experience. Classroom pages may load slowly and viewing large audio and video files may not be possible.
Hardware Requirements
Processor - 2GHz Processor or Higher
Memory - 1 GB RAM Minimum Recommended
PC Software Requirements
Operating Systems - Windows 7 or higher
Microsoft Office 2013 or higher. Also, you could use a general Word Processing application to save and open Microsoft Office formats (.doc, .docx, .xls, .xlsx, .ppt, .pptx)
Internet Browsers - Google Chrome is highly recommended


Cookies MUST be enabled
Pop-ups MUST be allowed (Pop-up Blocker disabled)

The Kindle Reader App or VitalSource Bookshelf App are needed for many of our courses (No special equipment needed. This can be downloaded for FREE onto your computer.)
PowerPoint Viewer (if you do not have PowerPoint)
QuickTime, Windows Media Player &/or Real Player
MAC Software Requirements
Operating Systems - Mac OS x 10 or higher with Windows
Mac office programs or a Word Processing application to save and open Microsoft Office formats (.doc, .docx, .xls, .xlsx, .ppt, .pptx)
Internet Browsers- Google Chrome is highly recommended


Cookies MUST be enabled
Pop-ups MUST be allowed (Pop-up Blocker disabled)

The Kindle Reader App or VitalSource Bookshelf App are needed for many of our courses (No special equipment needed. This can be downloaded for FREE onto your computer.)
PowerPoint Viewer (if you do not have PowerPoint)
Adobe PDF Reader
Apple QuickTime Media Player