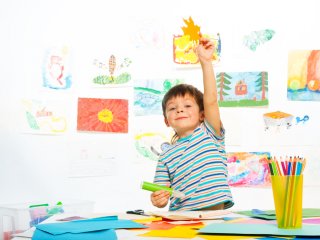 Description
Objectives
Outline
Materials
Certification
System Requirements
Watch a Demo
Do you love being around children? Have you ever thought about becoming a child care worker or wondered if you could start a home day care business? Our Child Day Care Management course can provide you with the information to take the first step toward gaining a rewarding career in education! Through this course, you can learn the key concepts involved in being a child care worker. You could even learn some basic ideas on how to start a home day care business!
A child care worker is a special person who helps children grow, learn, and gain new skills every day. A child care worker also provides behavioral and emotional support so children feel safe and comfortable while with a child care worker. 
Prerequisite(s): None
After completing this course, you should be able to:
Recall the elements involved in starting a daycare business
Recognize the requirements and considerations for planning a daily schedule
Identify methods for generating enrollment, solving common problems and setting professional goals
List example activities for early childhood curriculum
Identify methods and considerations for developing curriculum
Child Day Care Management Module 1
Starting a Day Care Business
The Benefits of Family Child Care
Is This for Me?
Kinds of Home Based Child-Care Providers
Styles of Home Based Child Care
Inventory of Skills and Experience
Where to Start
Licensing and/or Registration
Planning to Make a Profit
Policies and Procedures
Enrollment Records and Policies
Setting Your Fee
Termination Policy
Hours of Operation
Holidays and Vacations
Guidance and Discipline
Child Day Care Management Module 2
Planning the Daily Schedule
Your Daily Schedule
Age-Mix of the Children
Your Background and Training
Mealtimes: An Essential Part of the Day
Naptime and Free Play
Structured Time
Special Events and Story Time
Language Activities
Science Activities
Learning Games
Movement Activities
Cooking and Snacks
Music and Art
Positive Guidance Tools
Discipline / Guidance Techniques
Decreasing Difficulty Behavior
Fostering Good Social Skills
Ten Common Guidance Problems
Child Day Care Management Module 3
Day Care Business Basics
Generating Enrollment
Screening Parents and Children
Setting Up Your Office
Computer and Printer
Using the Internet
Record Keeping
Solving Common Problems
Problems with Parents
Problems with a Multi-Age-Mix of Children
Minimizing Interruptions
Planning for the Future
Small Verses Large Center
Your Well-Being
Planning for a Substitute
Hiring an Assistant
Increasing Your Fees
Setting Goals
Being a Professional
Child Day Care Management Module 4
Creating Curriculum
Early Childhood Education
Developmentally Appropriate Practices
Brain Research
Diversity
Observation and Assessment
Process of Planning and Scheduling
Schedules and Routines
Curriculum Development
Themes, Units, Projects, and Webs
Multicultural or Anti-Bias Considerations
Child Day Care Management Module 5
The Learning Environment
Managing the Early Childhood Environment
Equipment, Materials, and Supplies
Language, Literacy, and Literature Defined
Developmental Stages of Language and Literacy
Brain Research: Brain-Based Literacy Learning
Integrating Literacy into the Classroom
Creativity, Art, and Music
Integrating Art and Sensory Play into the Curriculum
Child Day Care Management Module 6
Social Studies, Sensory Play, and Science
Social Studies and Dramatic Play Defined
Pretend Play
Developmental Stages of Sensory Play
Sensory Integration
Sensory Environment Checklist
Developmental Stages of Science Play and Learning
Brain Research: Executive Function
Child Day Care Management Module 7
Math and Manipulatives
Developmental Stages of Math
Activity Dependent Development
Integrating Math into the Curriculum
Fine Motor Development
Math, Science, Reading
Creating Partnerships with Families
Teacher's Role
Child Day Care Management Module 8
Large Motor and Construction
Outdoor Play
Physical Activities
Teaching Tips Outdoor Play
Blocks and Woodworking
Spatial Reasoning
Evaluations
Documentation
 
**Outlines are subject to change, as courses and materials are updated.**
Ed4Career is committed to being both environmentally conscious and making it easier for you to study! We're making your education mobile! All of our textbooks are now provided as eTextbooks. You can access them on your laptop, tablet, or mobile device and can study anytime, anywhere.
The move away from physical books to eTextbooks means you get the latest, most up-to-date version available. This also makes your training more accessible, so you can study anywhere you have your phone or tablet. The best part is that all materials are included in your training cost so there are NO extra fees for books!
Upon successful completion of our Child Day Care Management course, students will be prepared for a job in the Child Day Care industry and, in part, for the education requirements to become an NCCB Certified Child Care Worker (CCCW).
Internet Connection
Broadband or High-Speed - DSL, Cable, and Wireless Connections
*Dial-Up internet connections will result in a diminished online experience. Classroom pages may load slowly and viewing large audio and video files may not be possible.
Hardware Requirements
Processor - 2GHz Processor or Higher
Memory - 1 GB RAM Minimum Recommended
PC Software Requirements
Operating Systems - Windows 7 or higher
Microsoft Office 2013 or higher. Also, you could use a general Word Processing application to save and open Microsoft Office formats (.doc, .docx, .xls, .xlsx, .ppt, .pptx)
Internet Browsers - Google Chrome is highly recommended


Cookies MUST be enabled
Pop-ups MUST be allowed (Pop-up Blocker disabled)

The Kindle Reader App or VitalSource Bookshelf App are needed for many of our courses (No special equipment needed. This can be downloaded for FREE onto your computer.)
PowerPoint Viewer (if you do not have PowerPoint)
QuickTime, Windows Media Player &/or Real Player
MAC Software Requirements
Operating Systems - Mac OS x 10 or higher with Windows
Mac office programs or a Word Processing application to save and open Microsoft Office formats (.doc, .docx, .xls, .xlsx, .ppt, .pptx)
Internet Browsers- Google Chrome is highly recommended


Cookies MUST be enabled
Pop-ups MUST be allowed (Pop-up Blocker disabled)

The Kindle Reader App or VitalSource Bookshelf App are needed for many of our courses (No special equipment needed. This can be downloaded for FREE onto your computer.)
PowerPoint Viewer (if you do not have PowerPoint)
Adobe PDF Reader
Apple QuickTime Media Player